Our Shabbat Liturgy – (From Barchu to Emet)
Starting this Fall, liturgist, part-time rabbinic student and longtime Kolot member, Trisha Arlin, will teach six-week classes on sections the Kolot Shabbat Morning Service, where, along with learning some history, traditional meanings and ritual moves of the prayers and service, we will explore what each prayer can mean personally and to the community.
First six-week class:

The blessings from the Barchu to the Shma (the Kriat Shma section). No Hebrew Necessary.
Dates, times and locations TBD based on participants.

Can do day and/or evening class.

Cost is $300/per six week session, due the start of the class with each student entitled to one individual make up session if a class is missed.

Minimum 3 students per class.

References to previous students available upon request.
Also available: Individual tutoring for the entire service (or individual components), going at your own pace, $75 a session. Also, Drash Writing, tutoring and/or editing. Also happy to start up another Personal Prayer Writing cohort if there is interest.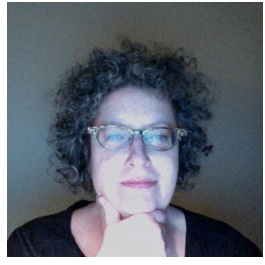 Trisha Arlin
is a liturgist and very part-time rabbinic student at the Academy of Jewish religion; 2014 Liturgist-In-Residence at the National Havurah Summer Institute; the editor of RAISING MY VOICE, The Selected Writings of Rabbi Ellen Lippmann and VOICES, the Kolot Chayeinu Journal; creator of the Writing Personal Prayer workshops.
Publications
A collection of her work, PLACE YOURSELF, with a foreword by Rabbi Jill Hammer and cover and inside art by Mike Cockrill, will be published in the Fall of 2018 by Dimus Parrhesia Press and will soon be available for pre-orders. Individual prayers and kavannot have been or will soon be published in
the JOURNAL OF FEMINIST STUDIES IN RELGION (2019)
; RENEW OUR HEARTS: A SIDDUR FOR SHABBAT DAY, Bayit and Ben Yehuda Press, (2019); BESIDE STILL WATERS, A JOURNAL OF COMFORT AND RENEWAL, 2018, Bayit and Ben Yehuda Press; A POET'S SIDDUR, Ain't Got No Press, 2017; and STUDIES IN JUDAISM AND PLURALISM, Ben Yehuda Press 2016 and her work can be found online on Ritualwell.org, the OpenSiddur.org and on her blog, Trisha Arlin: Words of Prayer and Intention www.triganza.blogspot.com.
Liturgy Use
Trisha's liturgy has been used at services and ritual occasions at venues of many denominations around the country, including Kolot Chayeinu and Union Temple (Brooklyn, NY) , Makor (Long Island, NY), Bnai Keshet (Montclair, NJ), Lev Matanot (Toronto, CA), Beth Israel-West Temple (Cleveland, OH), NHI Summer Institute, Adath Shalom (Morris Plains, NJ), Temple Chai (Phoenix, AZ), Moishe House website, Sinai Free Synagogue (Mt. Vernon, NY), Congregation Ner Shalom (Woodbridge, VA), Temple Emanuel (Franklin Lakes, NJ), Temple Isaiah (Palm Springs, CA), Addison County Jewish Congregation (Middlebury, VT), Columbus OH JCC, First Unitarian Church (Wilmington, DL), Kol Hai (New Paltz, NY), Congregation Kol HaNeshema (Sarasota, FL)